President - Elect
Current President - Elect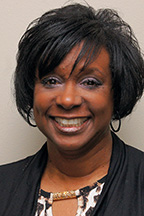 Human Resource Consultant
PCB Solutions
3911 Saddleridge Circle
Dayton , OH 45424
Position Summary:
Assist the President in overseeing all the activities of the chapter. In the absence of the President, perform all the Presidential responsibilities.
Responsible To:
The members of the chapter
The Chapter President
Primary Responsibilities
Perform all special projects as assigned by the President.
Upon request, assist all officers in performing their responsibilities.
Attend (and preside over, if necessary) all monthly membership and Board of Directors meetings.
Participate in the development and implementation of short-term and long-term strategy planning for the chapter.
Represent the chapter in the Human Resources community.
Utilize SHRM resources, board members, other local organizations, networking, etc. to find speakers.
Confirm speaking engagement in writing, obtain meeting summary and biography for introductions and for newsletter, inquire about audio-visual equipment, special meal, or other amenities (i.e. transportation) required.
Acquire and copy handouts as necessary.
Follow-up with speaker two- and one-month prior and then one-week prior to meeting.
Follow-up with Program Chair on hotel accommodations and for reordering thank you gift certificates.
Greet speaker(s) and sit with speaker at lunch.
Introduce speaker(s) and wrap-up meeting with speaker thank you gift.
Take lead on annual Workshop and Vendor Fair.
Coach and mentor to Networking Committee Chairperson.
Resources Available:
SHRM supplies the following resources for Chapter Vice-Presidents or Presidents-Elect:

Chapter Achievement Plan
Chapter Best Practices
Chapter Financial Support Program
Chapter Position Descriptions
Guide to Chapter Financial Management
Member Madness Program
SHRM-Approved Graphics
SHRM Leaders Guide
SHRM Strategic Planning Toolkit
And MUCH MORE... available online athttp://www.shrm.org/Communities/SHRMChapters/Pages/default.aspx.